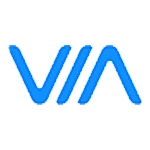 Updated by Team ViaBill
ViaBill Price Tags
ViaBill's PriceTag is the key to your success as a ViaBill partner. Price Tags show your customers how much to pay per month if they choose to pay with ViaBill.
The moment you enter into a partnership with ViaBill, you will be offered to have ViaBill's Price Tags installed on your webshop. Installing the Price Tag is a fixed part of your webshop's integration with ViaBill.
If you have not yet had ViaBill's PriceTag installed on your webshop, you can contact tech@viabill.com. Here, our skilled onboarding team is ready to guide you through the installation and answer any questions you may have.
New ViaBill Price Tags, updated 03/08/2021
ViaBill has a whole new branded look! We've changed our color theme, made updates to our website and the assets we advertise.
To keep up to date with our newly branded image, we're launching our new PriceTags that will be visible on your store from Monday.
Here's an example of the new look!

Don't worry, you don't have to do a thing, the update will change them automatically in your store.
If you have any questions, please contact merchants@viabill.com